If you're gearing up for holiday travel this year, get ready to run a gauntlet of airport crowds, long lines and packed airplanes. Although it's never fun to fly home during the busiest time of the year, we have three airplane travel hacks to make the journey a little more pleasant for yourself and your skin. Ignore the snoring seatmates and crying babies, and focus on our best Eminence Organics travel tips for keeping your complexion fresh and hydrated.
TRAVEL HACK 1: PACK MULTI-TASKING SKIN CARE
When luggage space is limited, one of your best bets for airplane skin care is a multi-product starter set like Eminence Organics Must Have Minis. A complete skin care routine of our best-selling products, our Must Have Minis Starter Set includes travel-sized versions of Eminence Organics favorites like Stone Crop Gel Wash and Strawberry Rhubarb Dermafoliant in one convenient travel pouch.
No room to squeeze into the airplane restroom and wash your face? Rest easy in your seat and refresh with a multi-tasking skin care product like Eminence Organics Rice Milk 3 in 1 Cleansing Water. We picked up an ingenious travel hack for cleansing water from Kirsten Rash, one of the winners of the Win A Trip To Budapest Contest. For her flight to Budapest, Kirsten saturated cotton pads with our Rice Milk 3 in 1 Cleansing Water and stored them in a reusable sandwich bag. With a quick swipe of the moistened pads, Kirsten was able to care for her complexion in three ways: makeup removal, cleansing and toning.
TRAVEL HACK 2: HYDRATE WITH AN IN-FLIGHT MASK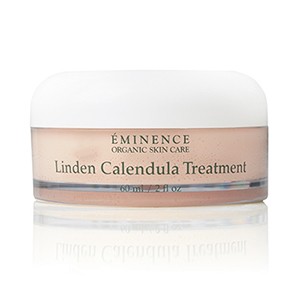 Not only do you want to keep your face clean and clear, it's also essential to hydrate deeply to combat dry cabin air. For normal to dry skin types, we love to mask with Eminence Organics Linden Calendula Treatment while on board. Extracts from fresh linden and calendula plants deeply nourish the skin and herbal oils restore the look of youthfulness and elasticity. After touchdown, you can remove the treatment with a damp face cloth or, for additional moisture, just leave it on!
Watch our mixology below about blending Linden Calendula Treatment with Rosehip Triple C+E Firming Oil for even more ways to use this rich and deeply moisturizing product.
For normal to oily skin, we recommend Eminence Organic Skin Care Lotus Detoxifying Overnight Treatment for air travel. This lightweight gel cream defends against drying environmental stressors and also prevents water loss in the airplane cabin environment.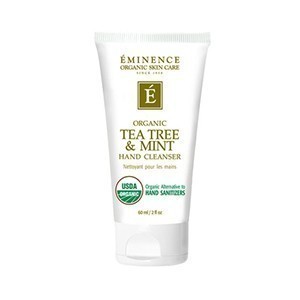 TRAVEL HACK 3: KEEP YOUR HANDS (AND SEAT TRAY) MINT-Y CLEAN
Dryness is not the only in-flight peril for your skin – viruses and bacteria are more hazards to avoid while on board. With Eminence Organics Tea Tree & Mint Hand Cleanser, you can stay germ-free, even on a crowded flight. Just a drop or two rubbed into your hands will keep them clean and, personally, we like to wipe down our seat tray with this cleanser also. Infused with organic chamomile, aloe vera and tea tree oil, this chemical-free sanitizer will leave your hands (and environment) clean and hygienic.
Are you planning a long-haul flight for the holidays? Stock up on Eminence Organics travel essentials at your nearest Eminence authorized spa.
Source: https://eminenceorganics.com/us/blog/2017/11/09/3-eminence-organics-travel-hacks-your-next-flight