They say the eyes contain all the laughter and smiles from your life. Therefore, as you age, you may find more fine lines and wrinkles around your delicate eye area than the other parts of your face. While we love the character shown by laugh lines and crow's feet, we have a few tips and tricks to help you keep your eye area bright and youthful looking. Here are three signs of aging eyes – and how you can use Eminence Organics to keep your eyes looking their best.
3 TYPES OF AGING AROUND THE EYES & HOW TO GET RID OF THEM WITH EMINENCE ORGANICS:
CROW'S FEET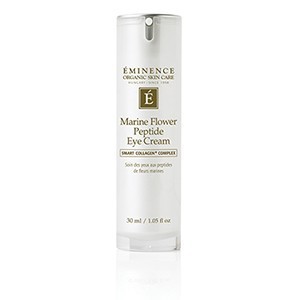 Unlike the muscles in the rest of the body (which are connected to our bones), facial muscles are attached to our skin tissue. When we smile or frown, the muscles beneath the skin contract and expand, causing temporary creases and expression lines. These can appear as crow's feet around the eye area.
To tackle pesky crow's feet, we recommend layering Eminence Organics Marine Flower Peptide Eye Cream with Hibiscus Instant Line Filler. Our Marine Flower Peptide Eye Cream employs naturally derived plant peptides, innovative algae extracts and Smart Collagen+ Complex to visibly lift and plump the eye area, while the Hibiscus Instant Line Filler smooths the look of fine lines and wrinkles in as little as two minutes.
SAGGING EYELIDS
With age, skin begins to sag around and over the eyelids and excess fat develops below them. Especially around the eye area and the eyelid, the skin can droop towards the eyes so you look less alert and more tired.
While you can't fight the effects of gravity, you can improve the look of drooping skin. To visibly lift sagging lids, we recommend adding Eminence Organics Hibiscus Ultra Lift Eye Cream to your eye care routine. This celebrity favorite is infused with hibiscus and ice wine actives to instantly tighten and lift the look of skin.
Source: https://eminenceorganics.com/us/blog/2017/10/25/how-smooth-eye-wrinkles-and-crows-feet-eminence-organics